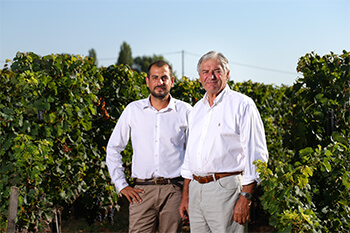 Bourceau Vineyards
A family story…
Château la Gamaye belongs to the Bourceau's family for more than six generations. After an adolescence to support his father on the vineyard, Franck Bourceau takes over the vineyard in 1983 and does not stop enriching it.
With 5 acres the 1920s, the vineyard was developed to 50 acres. Franck Bourceau fund, over time and acquisitions, the balance between traditional know-how and modernity.
The estate is composed today of 3 different Châteaux making wines on 3 appellations, Château La Gamaye and Château Terrier des Cailloux (Blaye Côtes de Bordeaux), and Château Haut Mangaud (Côtes de Bourg) and propose subtle wines, all classified in AOC (Protected appellation).
Since 2017, Wilfried, the son of Franck looks after the vineyards. After 1 year of wine making in South Africa, he traveled around the globe during a decade, to enrich his experience by working in England, then in Vietnam, in Singapore and in China, as sales representative for various Negociant.